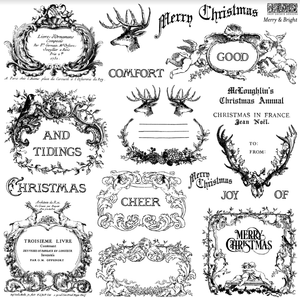 * THIS IS A 2021 LIMITED RELEASE * Once sold out, it's gone!
IOD Merry & Bright is a 1-sheet stamp similar to the popular Crockery, but with a Christmas Theme! This stamp set is unique as most of the text within the frames are actually separate stamps themselves! Mix and Match to your hearts content!

Sheet Dimensions 12" x 12" (Two sheet set) with a total of 27 individual stamps.